In this article, we examine the growing need for businesses in Ireland to have cyber insurance coverage.
While cyber insurance won't prevent your business from being targeted by cybercriminals, it can help to mitigate the devastating financial and reputational consequences of an attack.
Cybercrime is an ever-evolving threat
There is no doubt that the cybercrime industry is booming.
The pandemic triggered a shift to remote and hybrid working arrangements that most businesses simply were not prepared for, leaving them more vulnerable to cyber attacks than ever before.
Of course, opportunistic cybercriminals wasted no time in exploiting this weakness. In 2020, the economic cost of cybercrime was €9.6 billion in Ireland alone and by 2025, the annual cost to businesses is expected to reach $10.5 trillion worldwide.
Here are some key findings from the 2022 Hiscox Cyber Readiness Report:
49% of businesses suffered a cyber attack in the past 12 months (a 10% increase from last year)
62% of respondents believe that remote working makes their business more vulnerable to an attack
Companies have spent €4.8 million on cyber security in the past 12 months
74% of companies in the financial services industry have adopted cyber insurance (either through a standalone policy or as part of a wider insurance policy)
The extent of cybercrime in Ireland
Ireland is a prime target for cybercriminals, with the incidence of cybercrime double that experienced by companies around the world.
Phishing and ransomware are the most common types of cyber attacks, with ransomware costing Irish businesses over €2 billion in 2020 alone.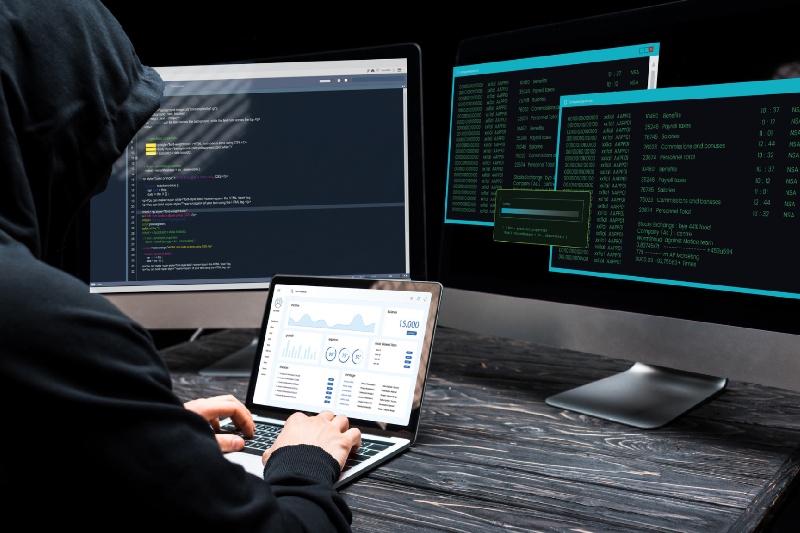 PwC's Global Economic Crime and Fraud Survey 2022 found that cybercrime in Ireland has increased drastically since the onset of the pandemic. Cybercriminals are experts at exploiting social, economic and geopolitical instability for their gain, targeting businesses of all sizes and government organisations such as the HSE.
According to the Hiscox report, 25% of Irish businesses have paid ransom fees five times or more to recover data, and the most common method of entry for ransomware was unpatched servers.
What can Irish businesses do to reduce the risk of a cyber attack?
Remote and hybrid working poses a significant cyber security risk, but the trend is here to stay for the foreseeable future.
This means that companies must take proactive steps to protect against attacks, including the following:
Cyber awareness training for all staff, particularly on how to spot phishing emails
Increased spending on cyber security
Upgrade systems to combat fraud
Getting the balance right between user experience and fraud controls
What is cyber insurance?
Standard commercial policies do not provide liability coverage against the financial and reputational losses that can arise as a result of a cyber-attack.
Cyber insurance covers computerised attacks or incidents in which access to a network, device or system is disrupted or prevented, as well as incidents in which sensitive client data is lost or privacy is breached.
What does cyber insurance cover?
If your company is targeted by a phishing attack, ransomware attack or data breach, cyber insurance can help you cover legal expenses, recovery services, and even privacy liability costs if your business faces investigation.
It can also assist you financially with things like:
Notifying customers about a data breach
Restoring the personal identities of affected customers
Recovering compromised data
Repairing damaged computer systems
What types of businesses need cyber insurance?
Richard O'Dwyer, Managing Director at Hiscox Ireland, issued the stark warning that one cyberattack could reduce businesses to 'financial rubble'.
If your company uses IT systems to conduct business, to store sensitive customer data (e.g. names, addresses or banking information), or to process card payment information, then you should consider cyber insurance to be a necessity.
Protect your business with cyber insurance coverage from ERM Financial Services
ERM Financial Services are on hand to help you protect your business against the consequences of a cyber-attack. Our experienced and trustworthy team will work to provide cyber insurance coverage that is tailored to your unique needs at the most competitive price.
No matter how small your company is or what industry you are in, you could be the next target of a sophisticated cyber-attack.
Make sure your customers, your staff and your business are protected by getting in touch with us today.
We regularly update our blog and resources section with the latest trends and developments in the insurance world, so be sure to check those out too.